Since 2013, we've helped many businesses of various sizes and industries to design and develop responsive and interactive web applications.
Free Consultation
Redooor offers a variety of services such as website design, web and mobile application development, web hosting, email hosting, PHP/JavaScript/Java/.NET code maintenance as well as System Administration support.
Feel free to drop us an email today to ask for a free consultation and quotation.
Podcast Membership
cms, customised, redminportal, podcast, paypal, iTunes
Language Domus offers language courses that breaks down the languages into easily understood bite-sized chunks for English speakers.
They needed a backend content management system to upload new mp3s, a payment system to manage subscriptions, and be able to push free contents to iTunes for their clients.
Redooor has built a customised CMS based on RedminPortal to cater to their specific requirements.
Online Store
wordpress, divi theme, woocommerce, paypal, seopress
Olive Beauty Care is a distributor of a wide variety of olive skincare products, especially the all-time best-selling Olive Manon Virgin Oil.
The COVID-19 pandemic had greatly impacted the sales through their retail stores. Hence, they were looking into revamping their existing website to sell more products online.
Redooor helped them migrate the existing products database over to WordPress Woocommerce with almost zero down time. The website design was refreshed for a cleaner, modern look using the intuitive Divi theme.
Laravel Maintenance / Enhancement
laravel, php, maintenance
Bailey Balfour provide accredited coach training programmes, coaching services and leadership solutions to individuals and global organisations in the Asia Pacific, Middle East and Europe.
They have an existing member-only portal which allows students to check their courses and access Zoom links for their online classes. This system was previously built by developers in Germany working in a different timezone. They needed developers located in Singapore and found Redooor.
Besides fixing bugs, Redooor has helped building some additional features, such as attendance marking module into the existing code.
Game Development
reactjs, education, javascript, html, css, laravel
St. Andrews Junior School English department had a vision to engage students with gamification of lessons. Instead of asking the students to write down on paper, they would like the students to play games in class while learning.
The game was designed with Laravel as the backend and Reactjs as the frontend. School's administrator can upload students details and various questions online. The system will convert those questions into 8 different games:
Crossword puzzles, word search, scrambled words, matching meaning to words, memory games, antonym games, synonym games, and sentence maker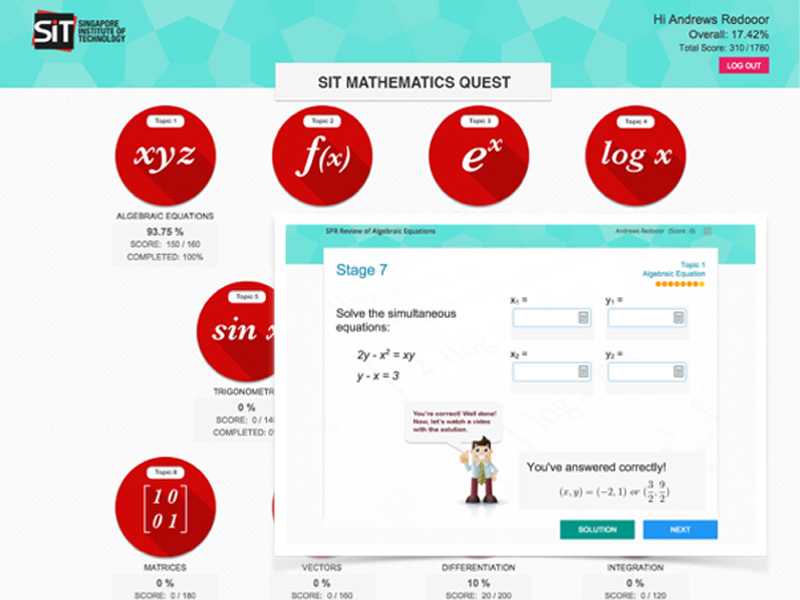 Learning Management System
adaptive learning, smartsparrow, education
Singapore Institute of Technology aims to provide a personalised learning experience for their students. They needed a platform that will allow the lecturers to create lessons and students can choose to take them at their own pace. They wanted the design to look cheerful with some gamification.
Redooor had chosen SmartSparrow as the platform for its flexible. Every possible input of the student will result in a different learning path, thus creating a unique experience for each student.
Self-serve Info Kiosk
self-serve kiosk, touch screen, in-house
Hong Leong Finance offers a range of loans and they would like to have a user-friendly self-serve kiosk for their customers.
The customers must be able to easily find the content and then fill up a simple form for application. Each loan has a unique calculator that will calculate the amount of loan they are eligible for base on their age, salary, etc. All the information must be encrypted for security.
Redooor has built a CMS to allow the staff to update their loan rates as well as download customer applications. Data are encrypted in the database and automatically purged every week. Angular.js is used to enhance user interactivity.
Flash to HTML Conversion
HTML5, CSS3, iPad, responsive UI
Capitamalls had a UI that must support iPad2 and newer versions of iPad. Their main concern was the lack of support for Flash in iPad. They already had a prototype of the house menu but it was built using Flash.
Redooor had helped to convert the Flash house menu into a responsive HTML menu using modern CSS3. However, CSS3 wasn't fully supported in iPad2, so we had to use some SVG hacks as workaround.
Advanced charts and graphs are drawn using CSS and SVG so that it can fit into any screen without losing its resolution. Element templates are created to allow backend system to draw charts and graphs on-the-fly.
Next-gen ATM
atm touch screen
Wincor Nixdorf, an ATM maker, wanted to refresh the user interface of their newer ATMs with touch screen. However, they do not want to deviate too much from the conventional design because many customers are already familiar with it. The official colours blue and red must be present.Redooor worked with those constraints and designed a prototype that was not too different from the conventional design yet with a new touch. Buttons are generally placed at the corners to give users a sense of consistency, but we had also introduced colour buttons and different placement to differentiate the level of significance.
Payroll System
RedminConnect allows the administrator to import employee and payment data, as well as managing user access, uploading learning materials and publishing announcements.
On the front-end, employees can login to view their payslips, download as PDF and access learning materials.
Who's using it: SASS
Ticketing System
RedminTicketing allows administrator to upload and download student and event data, as well as managing user access. The event module allows flexibility such as showing the event only after a certain date, restrict the booking to certain period and restrict the number of slots a person can book for an event. On the front-end, students and parents can login to view events and book their slots.
Who's using it: St Andrew's Junior School
Reading Portal
Redooor Reading Portal allows administrator to create book review questions for students to choose from. Students can login to the system to search for the book (using Google Book API) and enter their reviews. Teachers can login to the system to read and grade the reviews.
The dashboard shows the ranking of the top classes and students with the most book reviews submitted and graded. It even shows the top 10 most popular books reviewed.
Who's using it: St Andrew's Junior School
Empowering

Businesses
With our open source projects.
RedminPortal
laravel, backend, cms
A Laravel 5 package as a flexible content management system for developers.
Redmaterials
bootstrap, frontend, theme
A Bootstrap theme inspired by Google Material Design and various projects.